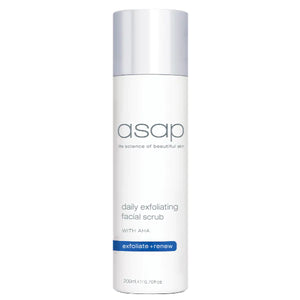 description
Formulated to dramatically improve the appearance and texture of skin. Biodegradable, non-plastic exfoliating beads combined with AHAs, gently remove dead skin cells to promote a smoother, more radiant looking skin.
Scientifically formulated to promote cell renewal and stimulate collagen, improving the appearance and texture of skin.
benefits
Smooth and round, non-plastic biodegradable beads and AHAs gently remove dead skin cells and exfoliate the skin. 
Encourages maximum penetration of subsequently applied active products. 
Gentle enough for everyday use.
Helps protect skin from the damaging effects of daily pollution.
Suitable for all skin types.


directions
Apply to wet skin after cleansing with asap daily facial cleanser. Massage gently for 30 seconds. Rinse thoroughly.
 asap recommends the use of 
SPF50+ HYDRATING DEFENCE
to protect skin from damaging UV rays and pollution.
ingredients
Glycolic Acid (AHAs)

Smooth round biodegradable beads to exfoliate the skin thereby promoting cell renewal and revealing fresher, younger looking skin.