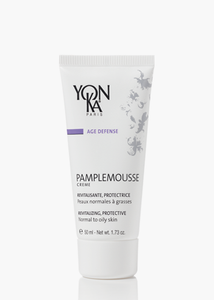 Cream PAMPLEMOUSSE PNG for normal to oil skins provides you with :
- A vitality and energy boosting cocktail: Essential oils of grapefruit, sweet lime, sweet orange, lemon, Yon-Ka Quintessence, vitamin C, grapefruit extract. The energising and astringent essential oils are matifying to the skin and help reduce the size of the pores.
- A duo of the antioxidant vitamin C and grapefruit extracts to bring back radiance and even skin.
- Olive oil and pumpkin seed oil: nourishing and protecting to achieve hydrated, nourished and comfortable skin.  Size 50ml